There is no hiding to the fact that our country is in the grip of statue fever of late. Of all the structures, Statue of Unity was the one that gained too much attention from across India for its tallest structure, as it stands 182 metres, which is the tallest statue in the country.
After Statue of Unity in Gujarat, other states followed suit to build respective statues to honour their leaders. Let's take a look at the 10 tallest statues in India.
Hanuman Statue of Damanjodi
The statue which reflects Lord Hanuman is the World's Second tallest Hanuman located at NALCO township, Damanjodi, Koraput in Odisha. It stands 108'9″ (33.1 m).
Basaveshwara statue
This statue depicts Lord Basaweshwara. The statue of Basaveshwara has been installed in the middle of the 103-acre tank in Gadag district of Karnataka. It has a height of 111 feet (33.83 m). Situated at the Bhishma Lake, it is the tallest statue of Basavanna in India.
Adiyogi Shiva statue
Adiyogi Shiva statue has the largest and tallest face in the world, comprising 500 tonnes of steel. It stands 112 feet (34.2 m), which symbolically denotes that Adiyogi gave 112 methods to explore the human system. It is located in Coimbatore, Tamil Nadu and it was installed in 2017.
Shiva of Murudeshwara
This statue depicts Lord Shiva. Interestingly, it is the second tallest statue of Lord Shiva in the world and the tallest statue of Lord Shiva in India. It has a height of 121 ft (37) and was installed in the year 2006. It is located at Murudeshwara, district of Uttara Kannada, Karnataka
Statue of Padmasambhava in Rewalsar
Padmasambhava also called as Guru Rinpoche, was an 8th-century Buddhist master hailing from the Indian subcontinent. He is widely regarded as the 'second Buddha' by followers of Tibetan Buddhism in Tibet, Nepal, Bhutan, the Himalayan states of India, and some other place as well. It was constructed in 2012. It stands at 123 ft (37.5 m).
Dhyana Buddha Statue
This statue stands 5th on the list. It reflects Buddha, which is located in Amaravathi village, Gudur, Andhra Pradesh. It stands 125 ft (38.1 m) and it was installed in 2015.
Tathagata Tsal
This is yet another Buddha statue, fourth tallest statue in India and the tallest Buddha statue ever built in our country. It reflects Buddha and has a height 128 ft (39 m) and it was installed in the year 2013. It is located in Sikkim.
Thiruvalluvar Statue
Thiruvalluvar Statue, also known as the Valluvar Statue stands 133 feet (40.6 m) was installed in the year 2000. It is located in Kanyakumari, Tamil Nadu. The monument portrays the 3 sections of Thirukkural- virtue, wealth and love. The statue has an altitude of 95 feet (29 m) and stands upon a 38-foot (11.5 m) pedestal.
Veera Abhaya Anjaneya Hanuman Swami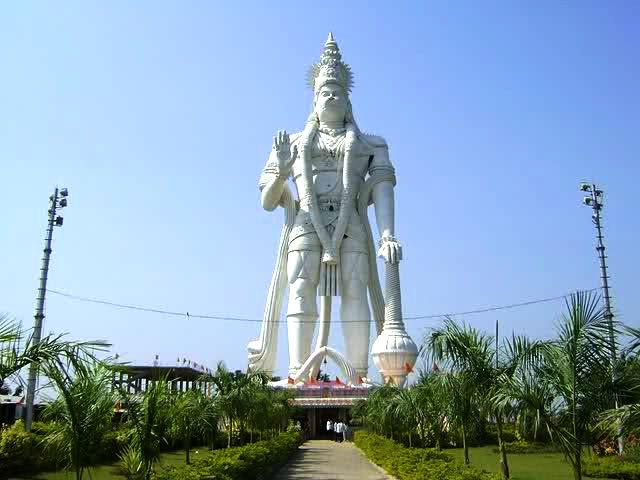 This is the world's tallest Hanuman statue dedicated to Lord Hanuman at Paritala Anjaneya Temple. The statue was constructed in 2003 and stands 135 feet (41 metres) tall. It is even taller than Christ the Redeemer statue in Rio de Janeiro, Brazil (38 m including 8 m pedestal). Veera Abhaya Anjaneya Hanuman Swami attracts many devotees, including foreign and domestic as well. It is located in Vijayawada, Andhra Pradesh.
Statue of Unity
What else? Statue of Unity tops the list like a boss! It is not only the tallest statue in India but also the tallest one in the world at 597 ft (182m). It depicts the independence leader Sardar Vallabhbhai Patel and was unveiled by Prime Minister Narendra Modi this year. It is located in Gujarat.